Dish and Saucer Style Hummingbird Feeders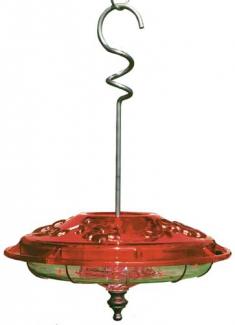 Hummingbird Feeder Review:
The following hummingbird feeders we have found to be some of the best and most practical hummingbird feeders on the market today. What we like about these is the fact that they are made with unbreakable polycarbonate,drip-proof, leak-proof and easily cleanable. The fact that they are easily cleanable is a real plus to help prevent mold from the hot sun. Nothing will keep a hummingbird away from your feeder quicker than a moldy feeder and a moldy nectar mix. We highly recommend these great hummingbird feeders for their attention to design and safety for our precious hummingbirds.
Tips for keeping bees away from your Hummingbird Feeder

Bees can sometimes be a problem at a hummingbird feeder but bees can be guided to a bowl filled with a 1 to 2 parts sugar/1part water mix. Place a bowl in a location not too far from the hummingbird feeder. If the plate or bowl is yellow that would be even better, because bees are attracted to the color yellow. The bees will, in most cases, move over to the bowl rather than the feeder. Once the bees are attracted to the bowl, move the bowl in a sunny spot a little farther away from the feeder, preferrably at night because there will be less activity. After a few days of moving the bowl, the bowl will be far enough away to allow hummingbirds to feed on their feeder rather than the bees. The bees will be at the decoy bowl.
We accept Mastercard and Visa